Quality & Safety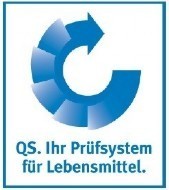 QQS quality and security GmbH is the world's largest inspection system for food and all stakeholders in the food production across all levels are tested and integrated. The goal of QS is, to integrate all involved companies in the quality and safety system. Each production- and processing stage is of importance. Each individual is important.
Due to the fact that our company sells the biggest part of its production in the market of animal feed, in December 2009 the test system for the QA stage "Individual food manufacturers" was certified.
Every company in the food chain is both sender and recipient of quality requirements. Animal feed are starting materials for the production of high quality foods of animal origin. Due to these reasons the process of feed production must be transparent, product-specific criteria and meet quality standards. Is the input of inferior quality, the output may not be good.
The more important it is for QS to start as early as possible in the food chain. Therefore, individual feed producers form the basis for QS.